Julie was born and grew up in Peterborough and in 1998 she left for good…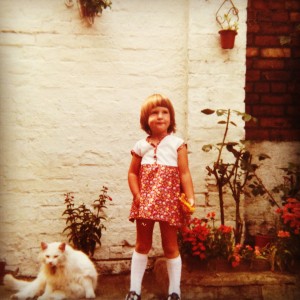 Julie, Aged 4, Bamber Street, Peterborough
With financial support from Arts Council England and The K Blundell Trust, and through an attachment to Metal Culture, Julie returned to Peterborough in 2015/2016 to reconnect with the city she used to call home, a city transformed.
Funding also enabled Julie to travel to Berlin, another city she associates with a sense of guilt and experiences of takeover, and link stories between the two places.
Additional support for this project came from the Marriott Hotel Peterborough, Vivacity, Peterborough Archives and Collections and Headlong Theatre.
Many projects emerged from this research, including a rewrite of an existing novel with a fresh emphasis on the idea of home, and a new novel proposal exploring the reunion of two old school friends and their different ideas of the truth.
Julie is writing a feature length screenplay inspired by her time in the two cities and her short film Elsie: Prince of Denmark will  shoot at Peterborough Regional College, funded by local arts supporters Seedbed, as a direct result of connections she made while in the city.
Her relationship with Eastern Angles theatre company was also strengthened, leading to the commission of The Fletton Railway Children, a new adaptation of E Nesbit's classic book to open Peterborough's new pop-up theatre space The Undercroft. Julie will work with Eastern Angles again on new play Buried Women in 2017/18.
Julie met Peterborough's Lamphouse Theatre while in the city too, running workshops on radio drama and mentoring the writers picked for their Meanwhile… project.
For more on Julie's connection with Peterborough, read her Letter to My Hometown: To Peterborough With Love in Standard Issue Magazine.