Four elements. Four seasons. Four points on the compass. Four teenage girls. And one dead body.
A brilliantly dark thriller about isolated communities, rumours and suspicion.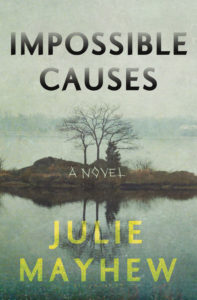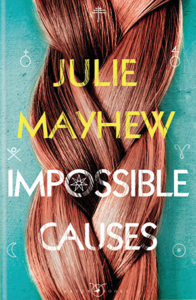 US:  Bloomsbury
Hardback (Nov 19)
UK: Raven, Bloomsbury
Hardback (Oct 19), Paperback (Oct 20)
Order from…
| Waterstones | Hive |
"Impossible Causes is a haunting work, filled with explorations into the power of lies, the consequences of silence, and the intensity that can envelop the relationships between teenage girls – a book that feels at once timeless and very modern" ~ Neil Nymen, BookTrib (US)
"Ingredients for a spooky thriller: one British island, fogged in most of the time; a mother and daughter looking for a peaceful life; a devoutly religious village full of secrets and lore; a puzzling circle of sacred stones; and four girls accused of murder" ~ Lisa Levy, Crime Reads, Five Psychological Thrillers To Read In November (US)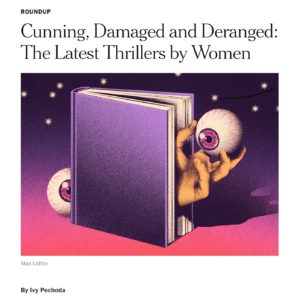 "Hints of magic and the dark atmosphere of an isolated island create a compelling environment for a mystery… Impossible Causes dwells on beautiful language like a literary mystery, while simultaneously crafting a complex web of time, place, and character" ~ Elena Hartwell, New York Journal of Books (US)
"The picture that emerges is an important one, concerning itself with the external governance of women's bodies, their actions and their fates — a theme not confined to the remote Lark" ~ The New York Times (US) (right)
"Engaging characters, well-crafted suspense, and a tone of growing, claustrophobic dread add up to an effective thriller" ~ Kirkus Reviews (US)
"Mayhew delivers some memorably creepy moments" ~ Publishers Weekly (US)
"Effectively probes the teenage psyche while offering a compelling look at the perils of an insular society" ~ Booklist Online (US)
"Atmospheric and downright creepy" ~ Bruce Tierney, Bookpage (US) (full review, below)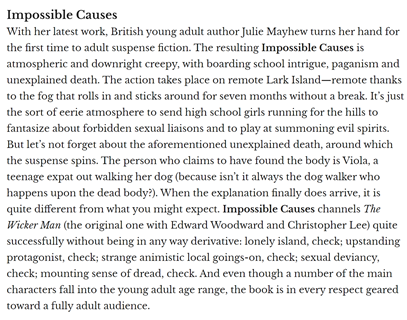 "Impossible Causes is a propulsive page-turner of a book… …a hopeful and gorgeously written novel that urges readers to do the right thing because the costs to everyone otherwise are far too high" ~Doreen Sheridan, CriminalElement.com (US)
"Billed as The Crucible meets The Craft, this claustrophobic thriller is about a tightly-knit cult on an isolated island called Lark. Mayhew combines basic elements of gothic fiction including witchcraft and the conflict between Christian and pagan religions" ~ Rabeea Saleem's Best Spooky Reads to Close Out Autumn, BookRiot (US)

"Mayhew, also the author of four young-adult novels, creates an uncommon plot, fills Impossible Causes with a galaxy of intriguing characters and employs age-old fears as she explores the unhealthy aspects of isolation—whether wrought by geography, psychology or tribalism. Call her novel strange. Call it unsettling. But also call it mesmerizing" ~ Jay Strafford, Free-Lance Star (US)
NetGalley Book of the Month for October 2019 (below), alongside titles by Nicci French, Jojo Moyes and Zadie Smith.
"An M. Night Shyamalan movie meets the #MeToo movement" ~ GoodReads Reviewer
"From the beginning we know there's been a murder but Mayhew is careful about revealing who and why and instead we are slowly sucked into a claustrophobic tale of outsiders versus insiders, religious fervour versus age-old paganism and, ultimately, women and men. A tightly told and powerful story of sins, lies and secrets long held" ~ Sarah Hughes, iNews 'Best Crime Books for 2019'
"Dense and claustrophobic, this well-written novel reprises the old themes of men whose need to control women is so frenzied that they cannot see any female as an independent human being… The final scene is chilling" ~ Natasha Cooper, Literary Review
"Told from the perspectives of Viola and Leah Cedars, an island-born teacher, this is a slowly building, eerily atmospheric tale of abused power and turning worms" ~ Imogen Russell Williams, Metro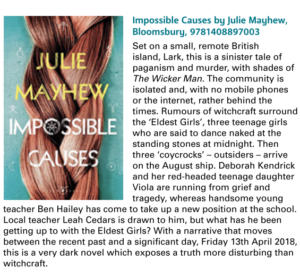 "Highly atmospheric" ~ **** Four Stars, Heat Magazine
"When the body of a man is discovered, it brings to the boil centuries of misogyny, superstition and repressed female rage in this part horror, part dystopian novel, which has clear allegories to rape culture and the #MeToo movement" ~ Sarra Manning, Red Magazine's Best Books for Halloween
"A beautiful piece of writing… hypnotically convincing, eerie and disturbing. Mayhew's is a voice I long to hear more of" ~ Alex Marwood, author of The Wicked Girls
"A very dark novel that exposes a truth more disturbing than witchcraft" ~ Bertrams (right)
"Julie Mayhew's mastery of narrative tension and believable characterisation is on show in this gripping tale of a community waking slowly from a dream" ~ The Countryman
"Pacey and original – Mayhew's characters will enthral and appal in equal measure" ~ Woman magazine's This Week's Hot Read
"A clever claustrophobic story of suspicion and supertsition in a close-knit religious community" ~ Eithne Farry's pick of Macabre fiction, S Magazine, Sunday Express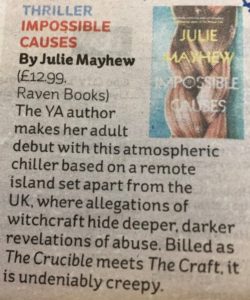 "This highly imaginative novel and its meticulously created community of characters was an addictive read with twists and turns and a wonderful sense of place. Beautifully written, beguiling and compelling" ~ Lisa Ballantyne, author of The Guilty One
"Both poignant and thrilling." **** Four stars, Hot New Picks For October ~  Crime Monthly
"What Mayhew achieves in the fictional mid-Atlantic island of Lark is a subtle, complete and terrifying piece of world-building – the vital backbone of a novel of this ambition" ~ Mslexia
"So welcome to Lark, a festering, pernicious, patriarchal cultish community, more occult amd sinister than Westboro. Tense, controlled and vivid" ~ Saga
"Fresh and interesting" ~ Observer
"The YA author makes her adult debut with this atmospheric chiller… undeniably creepy" ~ The iPaper (above, left)
A Charlotte Heathcote Mirror Book Club choice alongside Andrew Michael Hurley, Laura Purcell and Amanda Mason.
~ * ~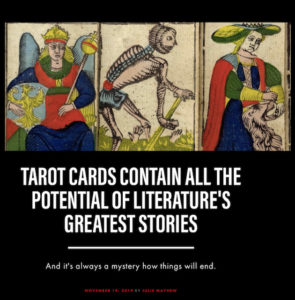 Julie was commisioned by Crime Reads to write an essay for USA publication day, on how the major arcana of the tarot tell the story of a thriller.
"It begins with the Fool—they are young, hopeful and openminded, no idea, as yet, of the dangers life will hold. The Fool strides forward with eyes focused on the horizon, on the future; they never think to look down, and this is how they fail to notice that they're about to step off a cliff.
"The first chapters of thrillers are filled with fools—unwitting victims and well-meaning protagonists, rookie cops and conspiring troublemakers. The reader is the fool at the start too, knowing little, unsure what they've let themselves in for. The biggest fool of all, though? The writer…"
Read the whole essay at CrimeReads.com
~ * ~
For The Big Issue…

~ * ~
IMPOSSIBLE CAUSES Acquisition Announcement in The Bookseller
'Impossible Causes is a dream of a book for me and a highlight of our publishing next year – a tense, brilliantly claustrophobic thriller set on a remote island which is cut off not just from the mainland, but from much of modern life. In Julie's sinister and compelling adult debut, Lark becomes a crucible for rumours and suspicion. And ultimately, murder…'
~ Alison Hennessey, Editor, Raven
Three strangers arrive on the tiny island of Lark – a remote and deeply religious island with a history of paganism. One has travelled there to take on a teaching post and become the only male teacher on the island. The other two, a mother and her teenage daughter, are running from something terrible back on the mainland.
As the fog descends and Lark becomes closed off from the outside world, a man's body is found. Rumours spread, tensions rise and the three eldest teenage girls on the island are accused of witchcraft – and of murder.
'I'm fascinated by small, closed communities and the girls that grow up in them. Impossible Causes will, I hope, speak to some very timely, real-world concerns about how young women are treated by society'
~ Julie Mayhew