Arts Council England are supporting my next project with Eastern Angles – a play uncovering the stories of the women missing from Peterborough's history books.
When I was growing up in the city, writing stage versions of Dogtanian and the Three Muskehounds (with the theme-tune taped off the telly) I had never heard of a playwright coming from my hometown. I, therefore, believed that it was something I could never do as job. It was only a few wrong turns down the line that I realised I could.
Then last year I discovered Florence A Kilpatrick quite by accident, while searching on IMDB for Peterborough based actors for another (ACE funded) project.
Florence was a novelist (like me) writing in the early 1900s who started out writing comedy (like me) and who also wrote radio dramas, plays and short stories (like me).
And she was born in Peterborough (like me).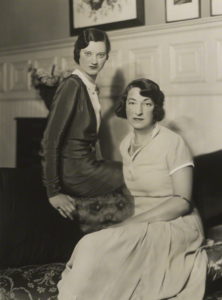 Florence (on the right) by Bassano, vintage print, December 1932 (source: NPG)
But despite her prolific output no one, not even the experts at Peterborough Archives, had ever heard of her.
And I was angry that I hadn't heard of her when I was growing up. Heck, I was furious that there wasn't a statue in her honour in Cathedral Square!
This was the seed that started the Buried Women project, which will include stories of other women from East Anglia that have been made small by the history books. More on that here.
I'm thrilled to be working with Poppy Rowley and Eastern Angles again after the fun we had on The Fletton Railway Children. Let the digging begin…