Julie was born and grew up in Peterborough and in 1998 she left for good…
With financial support from Arts Council England and The Authors' Foundation (The Society of Authors K Blundell Trust Award), and through an attachment to Metal Culture, Julie spent six months going back to her hometown, to reconnect to the city and research new stories, linking them to her experiences in Berlin, another city that has experienced 'takeover' in all its senses.
Additional support for this project came from the Marriott Hotel Peterborough, Vivacity, Peterborough Archives and Collections and Headlong Theatre.
It is hoped that a body of work will develop from this period in the city, including a novel for adults, and a feature length screenplay, both exploring the themes of home, friendship and change.
Her time in the city allowed her to forge connections with Eastern Angles theatre company leading to the commission of The Fletton Railway Children, and with Peterborough Regional College, which will be the location for her short film Elsie:Prince Of Denmark, shooting February 2017 with a supporting cast and shadow crew of local young people. Julie has also become involved with Lamphouse Theatre and Peterborough Playwrights, running workshops on radio drama and mentoring the writers picked for their Meanwhile… project.
For more on Julie's connection with Peterborough, read her Letter to My Hometown: To Peterborough With Love in Standard Issue Magazine.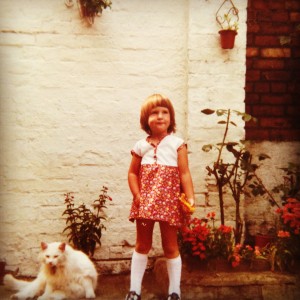 Julie, Aged 4, Bamber Street, Peterborough