The Electrical Venus has been described as "brilliant" and "a thrill" by the national press… and I couldn't be happier.
Writing in the Observer Miranda Sawyer said: "The story was sweet and simple; the wit, language and atmosphere flipped it up into a higher space, twirling like a trapeze artist through sparkling air."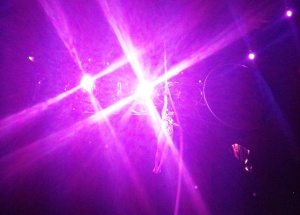 Paul Donovan in The Sunday Times selected the play for Pick of the Day. "Julie Mayhew's brilliant Afternoon Drama: The Electrical Venus is a vivid evocation of a travelling fair in 1749, " he wrote, "complete with human oddities, animal cruelty and 'electrickery.'"
The drama was also selected for the Metro newspaper's podcast of the day.
All the reviews are available in full, along with more information about the play here.
The play itself will remain available on iPlayer until November.
I also sent preview copies of The Electrical Venus to teen bloggers to understand why more young people don't engage with radio drama.
This brilliant post from Georgia Blackhart reviews not only the play but the unusual experience of getting a story only through sound.
"Now I've tried listening to radio drama, something I would never have done otherwise, I'd definitely listen to it again," she writes.
Hoorah.