Look what just came in the post. Volume 10 (1) of Stand is out and inside there's an excerpt from Red Ink.
As well as more from my novel's heroine, Melon, there's some oustanding fiction from Erika T. Wurth, John Michael Cummings and Paul Goodman, and some rather lovely poetry by C.K. Stead, amongst others.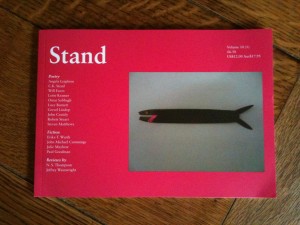 Plus, the striking cover would look gorgeous on any coffee table (am I being too salesy now?). Do pick up a copy – lit magazines like this will only survive if we buy them.