My short story One, Two, Three – Go! kicked off the 'fun and games' themed Liars' League event this month. It was also the League's fourth birthday – a perfect excuse for hats and party poppers.
It was a joy (read: relief) to be able to hand the performance side of things to someone much more qualified for a change, while I concentrated on the tricky business of sipping wine.
The Liars' League motto is, after all, "Writers write. Actors read. Audience listens. Everybody wins."
The fabulous Lizzie Roper read my story about sibling one-upmanship, not growing up and choking on French beans, making it 100% more funny. I am in her debt. Watch the video, listen to the audio or read the story for yourself  here – you choose.
Earlier in the year, I did brave the stage to read a scene from my novel Red Ink for the love-themed Literary Death Match at Shoreditch House. My competition: Guy Folligrey, G.S. Mattu and big-hitter Esther Freud.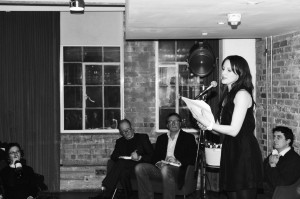 Judges Simon Hickson, Rowland Rivron and Sam Leith named me winner of my round (get in!) but I was thwarted in the final round when faced with Guy Folligrey's superior skills at catching marshmallows in his mouth and firing a lipstick dart at Barbara Cartland's face. Gutted.