My time on the Arvon/Jerwood mentoring scheme came to a celebratory end this week with the launch of an anthology of our work, quirkily entitled Binned.
The Free Word Centre was the setting for an evening of champagne, reading and, sniffle, goodbyes.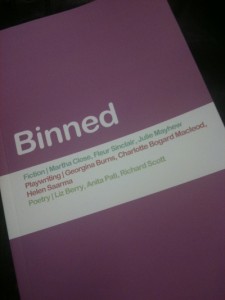 I've spent a year working on my new novel with Maria McCann as my mentor, and have spent two amazing retreats at The Hurst Arvon centre with a really fanatstic and supportive group of novelists, playwrights and poets.
On the launch night, I read an extract from Mother Tongue which you will find in the anthology.
Get yourself a copy by emailing Suzie Jones at Arvon. There's a charge of £2.50 for postage and packaging.