The paperback version of Red Ink hit the shelves in June and the response has been cracking across the board.
The book was nominated for the 2014 CILIP Carnegie Medal and is long-listed for the 2014 Branford Boase Award, was featured on both World Book Day's Summer Reading List and Booktrust's Summer Reads List 2013, and made the WHSmith children's chart on initial hardback release in February.
It was recently selected for Booktrusts' Children's Book Week Best Book Guide 2013 for readers aged 14+.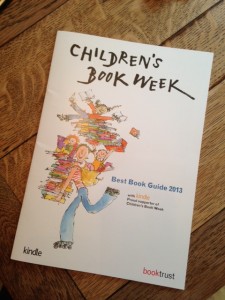 Here's what people have to say:
THE PRESS
BOOKTRUST
"This beautifully-written coming-of-age story is at once heartbreaking, and full of robust humour and hopefulness. Shot through with black comedy, and with a fantastically frank and funny narrator in Melon, this challenging and uncompromising young adult novel interrogates family, identity, memory and the myths and superstitions we create for ourselves. Powerful, unusual and enormously compelling, Red Ink marks out Julie Mayhew as a young adult author to watch."
THE INDEPENDENT ON SUNDAY
"Although Red Ink is billed as a coming-of-age tale, it would be a pity for older readers to dismiss it. There are so many nuances and such precise observations that Red Ink transcends categorisation. I loved it, and found myself describing the world around me as Melon would have done."
THE DAILY MAIL
"Melon's voice is totally authentic: she's hurt, confused, difficult, angry, vulnerable and loving – all at the same time. This is a brilliantly observed story of grief, sacrifice and redemption – and the unbreakable bond between mothers and daughters."
INIS MAGAZINE
"This was a book I regretted finishing – always the mark of a good story. Red Ink is Julie Mayhew's debut novel; let's hope it's the first of many."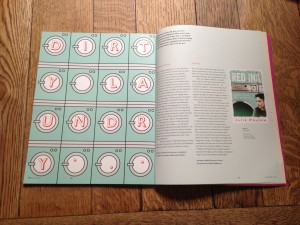 THE BOOKSELLER
Children's Bookseller Choice for February
"This is a wonderful book about the damage lies and myths can ultimately do to a family and how the truth, though harsh, really can set you free."
NEOS KOSMOS
"Just as Melon and her mother Maria are breaking stereotypes about solid Greek families in London, thus this thoughtful and at times emotional novel breaks every attempt to be categorised. It is a coming-of-age book that is as interesting for teenagers and new adults as it is appealing to older readers."
NEWBOOKS
New Authors for 2013 – the ones to watch from Newbooks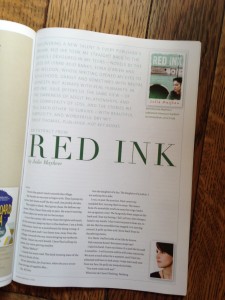 WE LOVE THIS BOOK
"Red Ink is heart-breaking and ultimately uplifting."
BERKHAMSTED LIVING
"Julie's writing is stunning: from the opening page you feel as though you know Melon, and you're pulled into her world immediately."
ALICE MAGAZINE
"Mayhew's dark comedic debut tackles family, identity, memory and the myths we conjure within."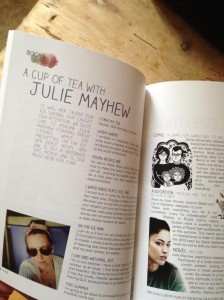 THE INDEPENDENT ON SATURDAY (SOUTH AFRICA)
"Julie Mayhew wrote the most beautiful book of the year, RED INK, which captures the angst and anger of a teenager."
THE BOOKSHOPS AND BLOGGERS
MY NAME IS PRINCE
"Mayhew writes with great verve as Melon and with great poetry in the sections that revolve around The Story and I liked the way in which the book itself became more complex and grown up as Melon herself approached her sixteenth birthday. There's great versatility there, which is why I think not only YA readers but many others would find lots to admire and enjoy.
DID YOU EVER STOP TO THINK (LH JOHNSON)
"Mayhew's extraordinary novel is quite something. It's full of this jarring, beautiful poetic prose that captures the heightened impact of pain so very well. Her voice is something else. Soothing, scared, hopeful, lost, quite often all at once."
CUCKOO REVIEW
"This novel is at times heart wrenching, at times ironically comedic and always beautifully written, so that its secrets unravel before [you]. When Melon finally begins to dictate her own existence and refuses to live in an obscure past this reader, for one, was overjoyed."
CHRISSI READS
"What I really enjoyed about this book was Melon's narration. She felt real… I was so impressed by this debut."
MABEL'S FABLES
"Melon is such a believable and engaging character, I couldn't help but root for her and pray that everything would turn out OK. She is edgy, funny, and full of anger about the tempestuous relationship she had with her mother. Most compellingly, she is a survivor, just like her mother. This book is poetic and riveting, and Melon's story is far from over by the end of the novel."
L SMITH WRITES
"Melon stumbles into adulthood and Mayhew covers crucial ground: awkwardness, trauma, bittersweet encounters, bullying, family, and the loss of virginity. This is a coming-of-age novel like no other I have read for a long time. With realistic highs and lows, bad decisions and consequences, terror and teenage naïveté, RED INK is painfully sad in places, but also very uplifting."
LOVEREADING4KIDS
June 2013 Debut of the Month
"Red Ink is an utterly compelling coming-of-age tale about superstition, denial and family myth. Though heart-breaking it is ultimately an uplifting novel that's beautifully written and marks out this talented young author as one to watch."
MUGGLENET
"Red Ink is a brilliant book, piecing together a tale in a pacey and engaging plot. Through the ideas of writing and storytelling, you grow to sympathise with Melon and understand her fraught emotions, and Maria's history shifts and slips into place in a thrilling conclusion. Mayhew is unafraid to tackle the hard issues of rebellion, naivety and denial. Once I started reading I couldn't put it down."
THE BLUE ROOM
"Maybe one day Mayhew will approach the class of Dickens or Proulx, and on the strength of her initial passages to 'Red Ink', she is well on the way. They were sublime. They immediately set her credentials as a fine, sensitive and nuanced author. It is quite amazing that this is her first book, although she has a prominent pedigree in other aspects of her art. I would perhaps be crucified, most particularly by my writerly daughter (in a loving way), for saying that it deserves a wider audience than her YA targets, but it is so good, it really does. I was immensely impressed."
WE SAT DOWN
"The writing in this novel is gorgeous and creates a great sense of place and character. Mayhew captures the little details in life beautifully: like why being on a bus is scarier than the London underground tube trains. But her writing is gripping at the same time – and occasionally startles you with the odd crudity. In Red Ink, what's below the surface really isn't always smooth nor shiny. Red Ink is a deliciously compelling read that had me eating sticky sweet baklavas and thinking about a holiday to Crete."
FOR BOOK'S SAKE
"Melon Fouraki is a pleasingly complex character; she makes careful observations of those around her, and she is sharp and witty."
PETERS EDUCATIONAL BOOKS
"Skilfully written and totally absorbing. Combines emotion, wit, a realistic plot line and a darker side. A useful situation book for older teens. An enjoyable debut."
LUNA'S LITTLE LIBRARY
"A lot of the time when I read books about people in dealing with death I sympathise with the character, sometimes I'll shed a tear, but I don't believe in them. Melon reminded me so much of myself at times it made uncomfortable reading. People treading on eggshells, Melon feeling guilty for not being upset enough ALL of the time… yeah it put me right back there. Red Ink actually made therapeutic reading in that sense."
THE OVERFLOWING LIBRARY
"All in all a brilliant coming of age story which a brilliant protagonist who you wanted to get behind and root for from page one. Well worth a read."
BOOKS AND WRITERS JNR
"The ending was very, very, unexpected. And shocking. But I liked it all the same. Now I want to read on about Melon's future! I can't wait to read more from Julie Mayhew, this debut novel was excellent."
WORD REVEL
"Besides dealing with death, Melon also had to deal with truth and lies. I liked the approach to truth taken here. Issues on why anyone would resort to lies and when truth matters less than perspectives were weaved into the plot, so there definitely were things for the reader to think about too. Melon's occasional reflective tone also drove me to tears when it mirrored my own thoughts during my grieving period, while also giving me reasons to smile."
BEVERLY'S BIT
"One of the life lessons I think that it has taught me is to expect the unexpected."
SJ O'HART
"Melon herself is a wonder. Funny, abrasive, full-colour, so real you can nearly hear her voice narrating her story to you, I absolutely loved her. She's one of the most convincing characters I've ever met, and this is largely because Mayhew tackles the concept of grief so well."
BOOK LOUNGE
"This is the most beautiful book of the year… It captures the angst and anger of a teenager so well, it feels as if it is all happening to you."