NOMINATED FOR 'BEST AUDIO DRAMA' at the BBC AUDIO DRAMA AWARDS 2012
SHORTLISTED FOR THE NICK DARKE AWARD 2010 (as a work in progress)

"Wise and tender" –
Gillian Reynolds, Daily Telegraph
"Very compassionate and very nicely done" –
Paul Donovan, Sunday Times
"Beautiful, poignant and a privilege to listen to" –
Jane Anderson, Radio Times
"Lovely lovely lovely" –
Hardeep Singh Kholi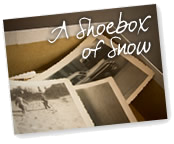 Produced by Justine Potter for Red Production Company / Savvy Productions, for BBC Radio 4
TX: 2.15pm September 16th, 2011 & 2.15pm May 5th, 2014
23 old-78 vinyl records.
A wind-up gramophone. Good working order.
Various assorted hearing aids. Without batteries.
Albert and Renie Grace have lived in their high-rise council flat for 55 years  and now the tower block is being demolished. Christopher Schmitt from the Housing Department must help the Graces clear out their hoards of trinkets, knick-knacks, doodads, thingamajigs and whatnots. Christopher is expecting to fill a few bin bags and then be on his way, but is it that easy to throw away your past?
Cast: Joe Armstrong, Edna Doré, Richard Briers, Julie Mayhew
---
A Shoebox Of Snow Blog was set up to collect stories from listeners about the things that they hoard.
The Independent On Sunday dedicated a feature to the project.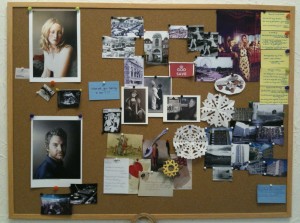 ---
The play was a radio choice in eleven national newspapers. Some selected press…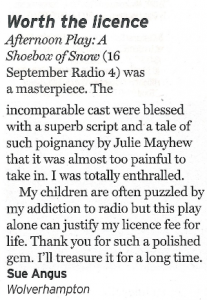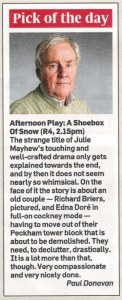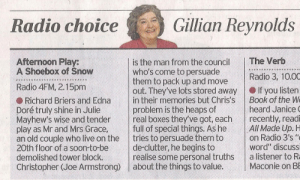 ---
Some photos from the two-day recording…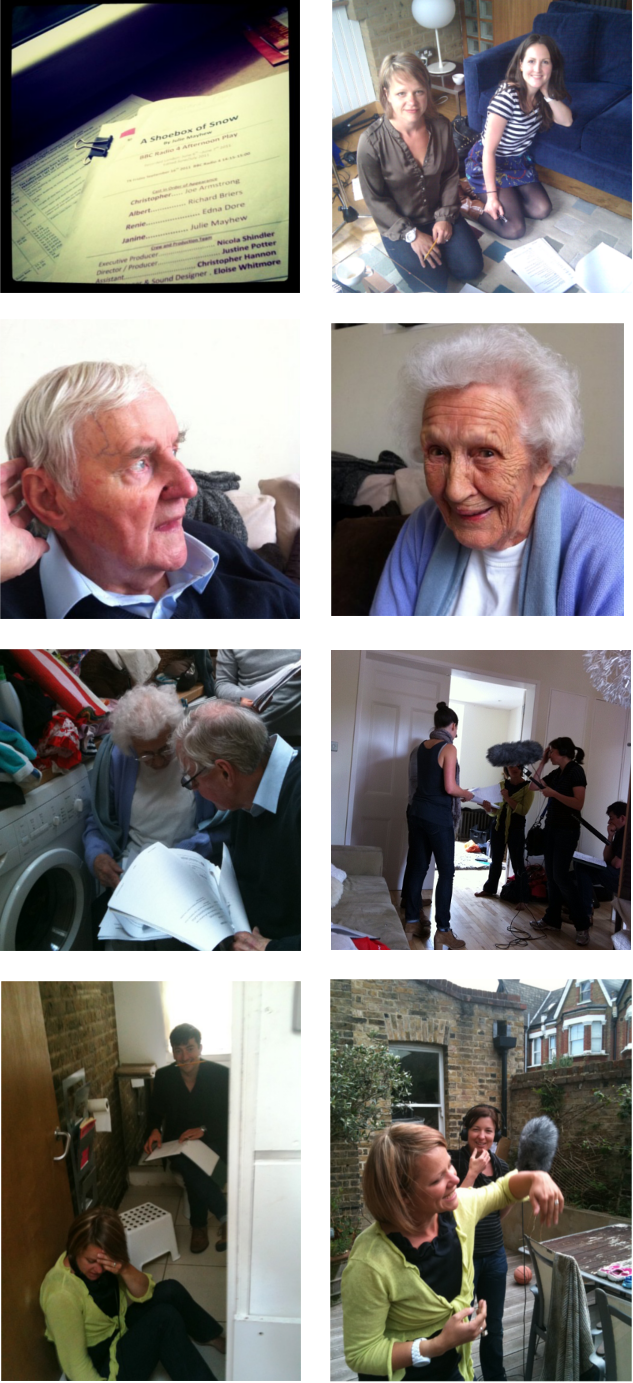 ---