I am thrilled to be one of nine writers selected for a coveted place on the 2011 Jerwood/Arvon mentoring scheme.
I'll be working on my second novel over the next twelve months with the invaluable counsel of Maria McCann, author of As Meat Loves Salt and The Wilding.
We have all, mentors and mentees, just returned from our initial Masterclass Residency at The Hurst in Shropshire (pictured), the secluded former home of playwright John Osbourne.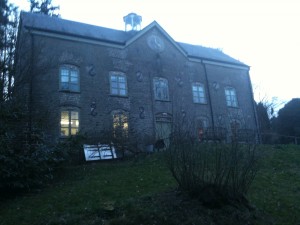 As well as dissecting the first section of my novel with Maria, the residency also allowed me to tap into the skills playwright Nell Leyshon and poet Daljit Nagra are passing on to their mentees.
So after a week of turning bog-standard cars into poetic toothbrushes, making needy strangers meet in kitchens and transforming Death Of A Salesmen into an internal novel, I've hit the ground running with my writing since I've been home.
The highlight of the week? Hearing everyone's work-in-progress read aloud on the final night. Keep an eye on these names.  Jerwood/Arvon definitely has talent.