| UK & Commonwealth | eBook – Apr 12, 2022 | Hardback – May 12, 2022 | Paperback – Jul 20, 2023 |
USA | eBook and Hardback – June 21, 2022 |
~ ORDER from  Amazon.co.uk, Amazon.com, WHSmith, Waterstones ~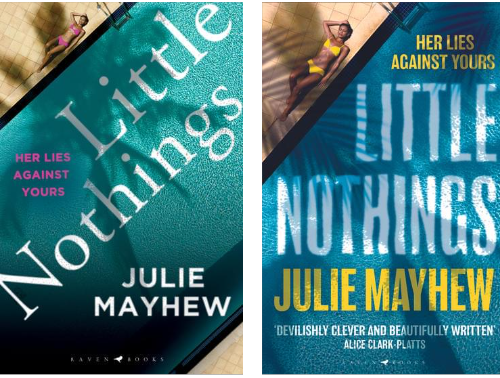 "…palpable anxiety, desperation, and rage drive the diabolical plot to a calamitous conclusion. Lucy Foley fans, take note" ~ Publishers Weekly, US
"Mayhew is brilliant on women and the complex ways in which their relationships can turn destructive. A true single-sitting read"
~ Alex Marwood, Author of The Wicked Girls
"Little Nothings delivers some searing and uncomfortable truths about motherhood and female friendship. Beautifully drawn characters, thrown together in the pressure cooker nightmare that is a group holiday. Entirely and chillingly relatable"
~ Sarah Naughton, Author of The Other Couple
"Devilishly clever and beautifully written" ~ Alice Clark-Platts, Author of The Flower Girls
"Mayhew explores both the affirming side of female friendships and the darker currents of judgmental talk, financial peer pressure, and neediness. The most interesting part of the book is Liv, who's the narrator, for she is often not a terribly sympathetic character. Yet there is something admirable in how she fights to recognize and celebrate her true, autonomous self, even if that person is inherently selfish and grudging" ~ Kirkus Reviews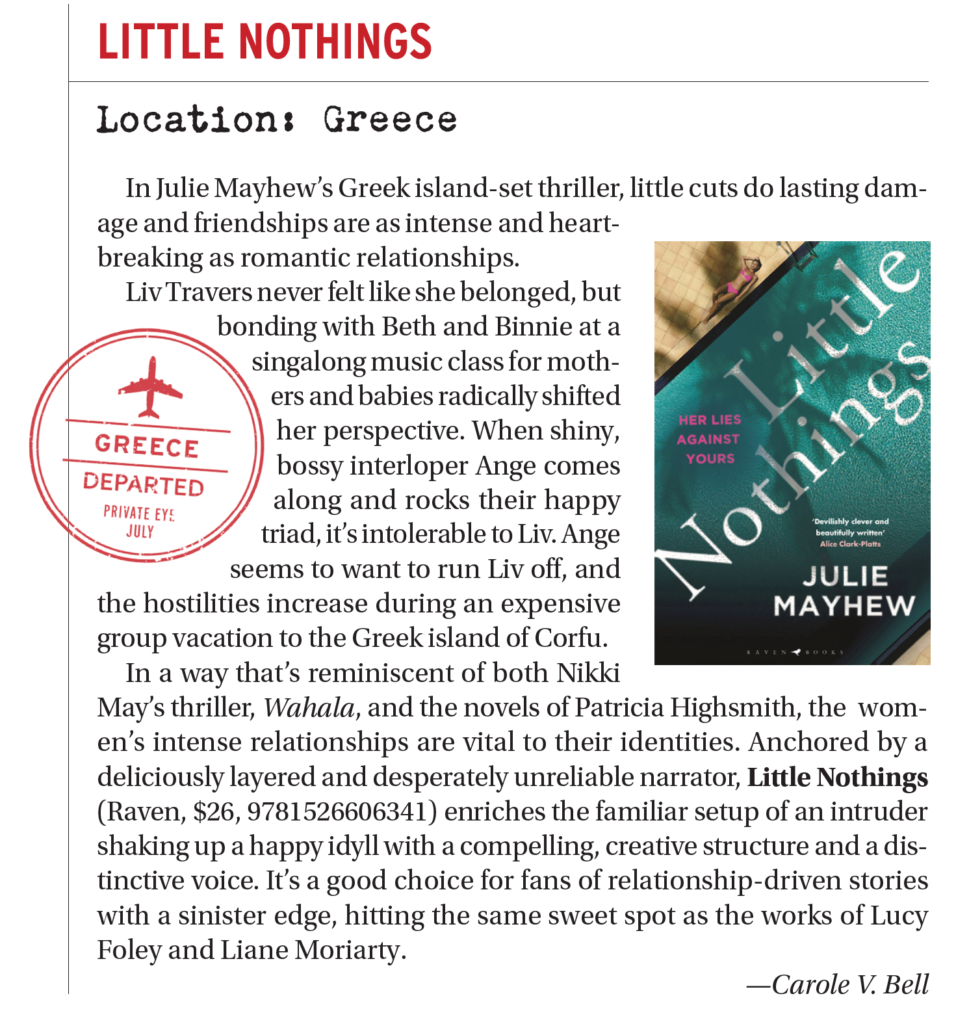 ~ Bookpage, US
"[Mayhew] writes relatable, credible characters, rarely defaults to cliche, and has interesting thoughts about class structures and socioeconomic realities along with her clear-eyed critique of the complex and dynamics that exist between, well, human beings. It's a highly enjoyable novel that ought not be ghetto-ized as a beach book…" ~ The Arkansas Democrat Gazette, US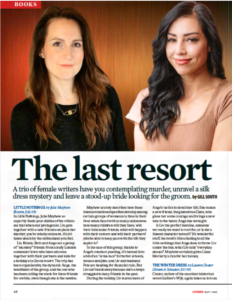 "In Little Nothings, Julie Mayhew so expertly feeds your dislike of the villainess that when our protagonist, Liv, gets together with a new friend and plans her murder, you're totally on board, if a bit taken aback by the enthusiasm you feel… Is Liv the perfect heroine, someone we really want to root for, or is she a flawed character herself? It's wonderful stuff, the book's title alluding to all the little nothings that Ange does to throw Liv under the bus, what Liv calls "everyday abuses". Mayhew certainly gives Liane Moriarty a run for her money" ~ From the article 'The Last Resort', The Listener, NZ
"Riveting" ~ Crime Monthly, UK
"A fun page-turner set on a Greek island paradise… This book balances edge-of-your-seat tension with gossipy fun as the friendships turn toxic, leading to a disturbing twist at the end. Perfect for fans of Liane Moriarty and Louise Candlish" ~ The Australian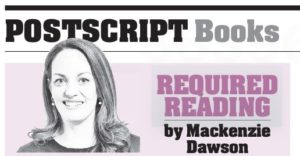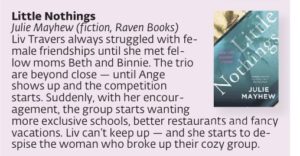 ~ NY Post
"A shocking tale about loneliness, modern motherhood and toxic friendships" ~ Woman's Own
"Liv [is] a compelling protagonist that you inevitably feel deeply for… ….Ange is anything but one-dimensional; she's a woman who gets what she wants by giving others what they need, usually attention. Her character arc in this makes for great reading, and as the novel progresses, the tension rises. It's a one-sitting read, at times uncomfortable but always entertaining. And the twist at the end – which I won't ruin for you here ­– is as disturbing as they come" ~ Better Reading, Australia
"The compelling psyche of Liv, her inability to understand functioning relationships with those around her, including her husband and daughter, underpins the entire narrative, and her characterisation was both relatable and unsettling… …This almost genre-defying novel encompasses physiological thriller and holiday romance in one deeply engaging story. It's the perfect summer holiday read" ~ The Courier & Advertiser, Scotland
As featured in Red Magazine,…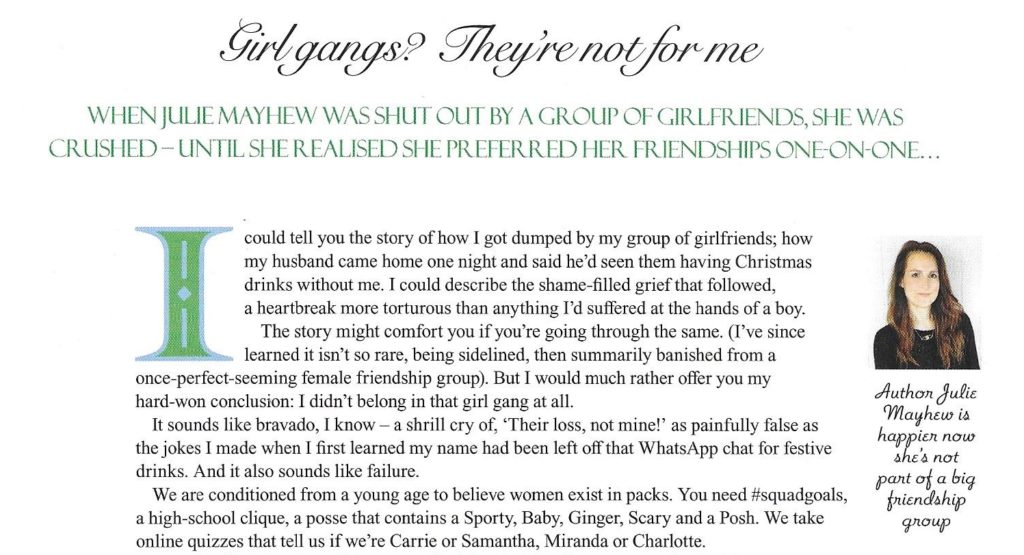 …see the Jul 22 issue for the full article.
Julie tells of a real-life brush with revenge in the Sydney Morning Herald…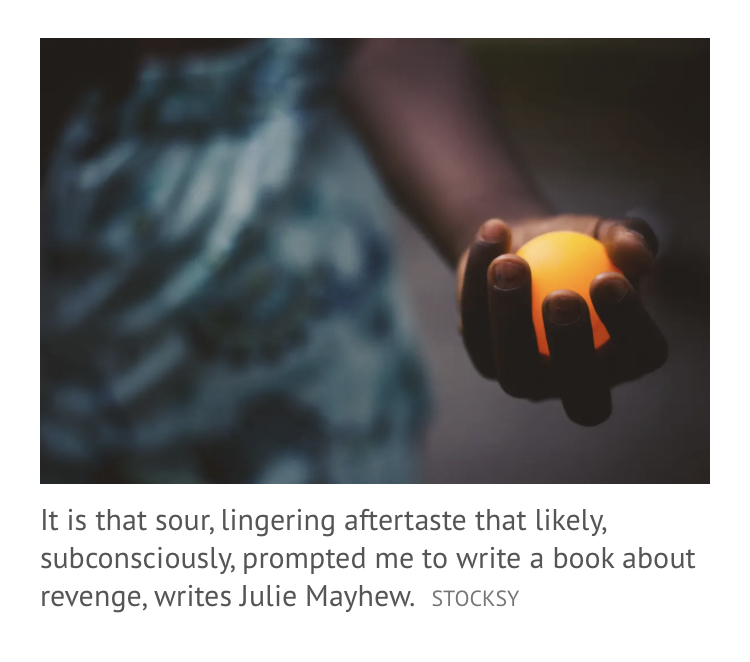 Read Julie's CrimeReads article The Case For Catharsis in Crime Fiction, about the writing of Little Nothings…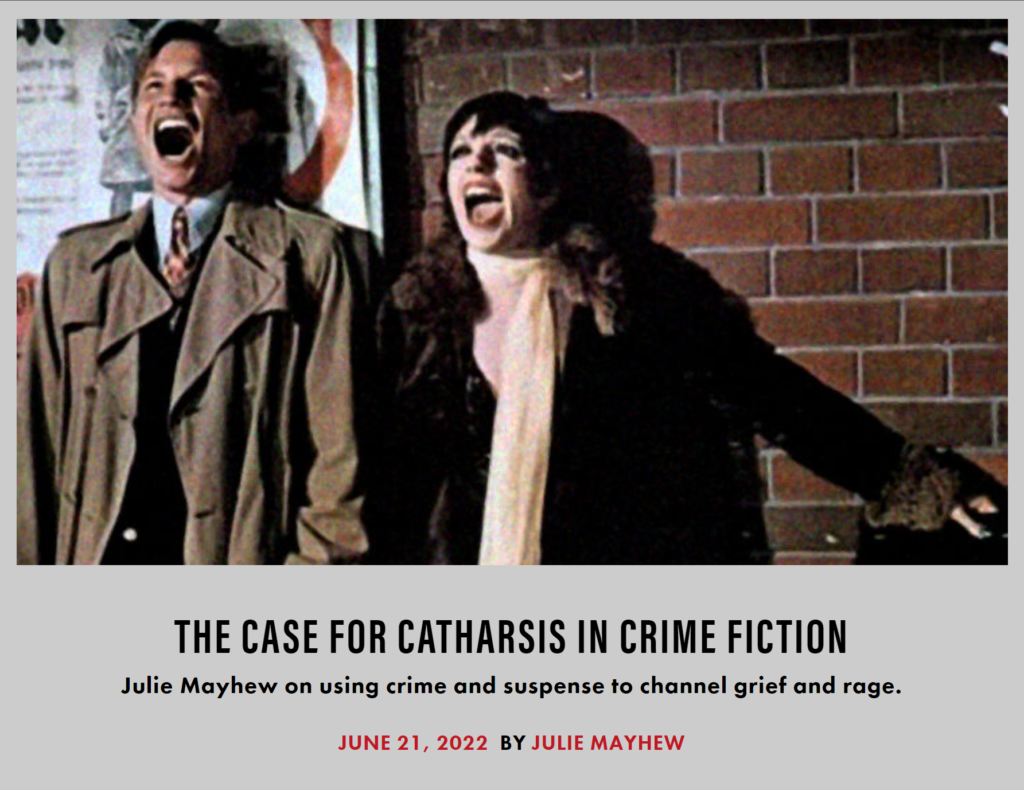 More mentions…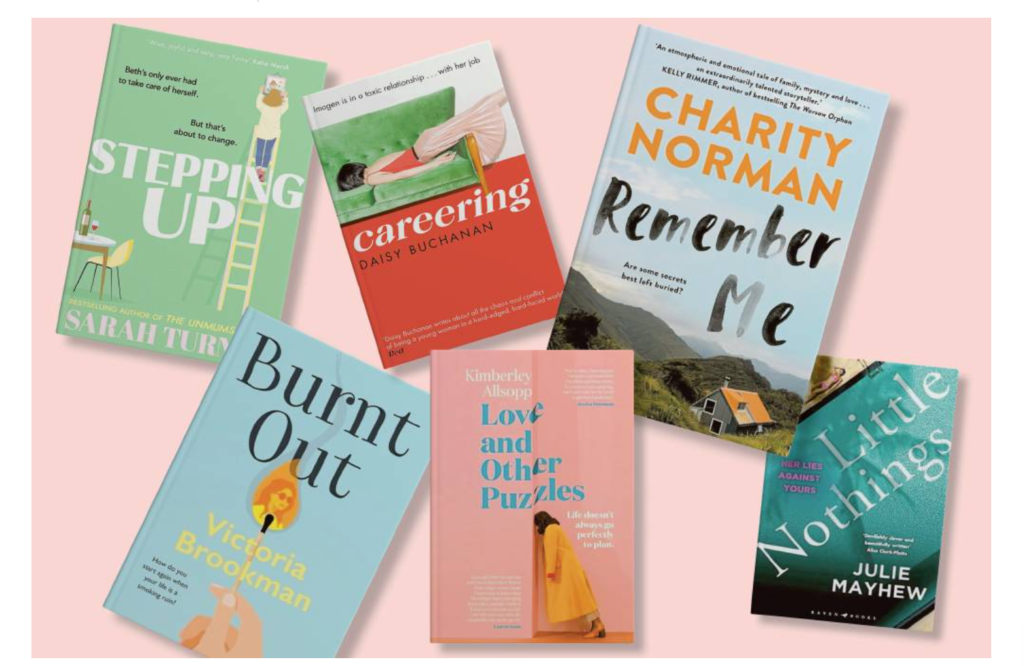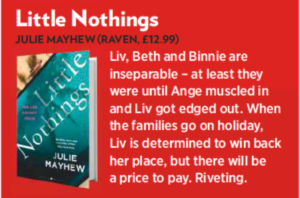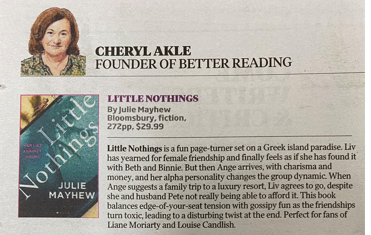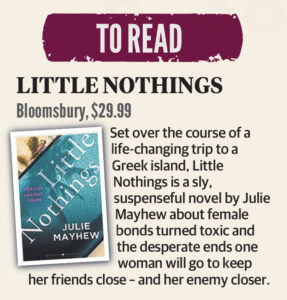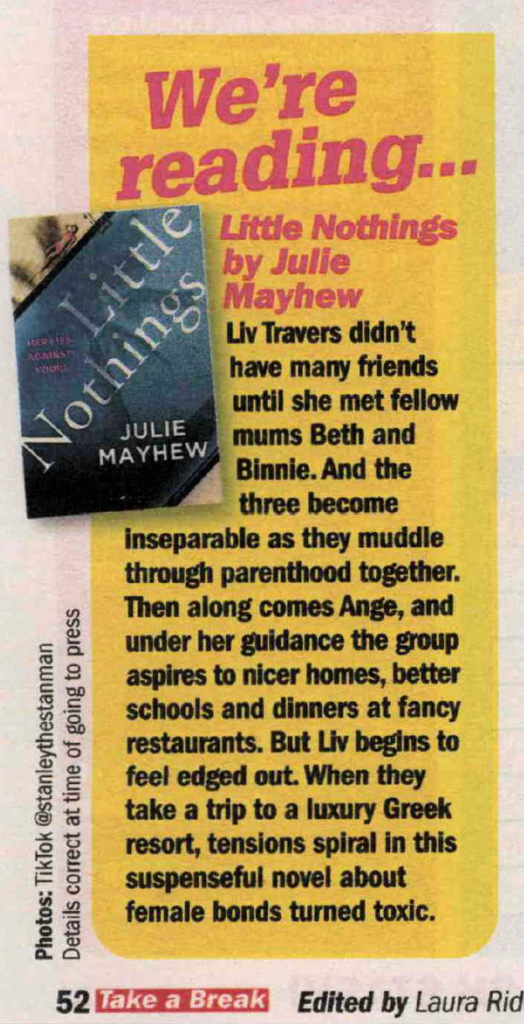 Q&As with Julie about Little Nothings…
Better Reading, Australia ~ READ
Deborah Kalb Books, USA – READ
~ * ~
Liv Travers never knew real friendship until she met fellow mums Beth and Binnie. The three women become soul mates as they muddle through early parenthood.
Then along comes Ange… Ambitious, wealthy and somehow able to do it all.
Under Ange's guiding presence, the group finds new vigour and fresh aspirations – bigger houses, better schools, dinners at exclusive restaurants. But Liv can't keep up and is increasingly edged out.
When the four families take a three-week trip to a luxurious holiday resort, Liv seizes the opportunity to reclaim her place at the heart of the group, only to discover the true, devastating cost of a friendship with Ange.
Set over the course of a single, life-changing trip to a Greek island paradise, Little Nothings is a sly, suspenseful novel about female bonds turned toxic, and the desperate ends one woman will go to keep her friends close – and her enemy closer.
~ * ~
EARLY NETGALLEY REVIEWS:
"[An] edge of your seat, nail-biting, good read."
"Superbly drawn, character-driven suspense with a credible and keenly observed cast and a compulsive narrative building gradually to a tumultuous showdown. Toxicity is everywhere. Top class."
"This book made me so angry! (*In a good way*) and explores the small papercuts of toxic friendships that eventually lead to jagged wounds. Everyone has been Liv the protagonist at some point in their life. The desire to be better, have more, not be lonely, have a successful relationship and, of course, have close friends. The story is so engrossing and realistic and suddenly veers into a twisty thriller. To me it was like a Highsmith/Moriarty combination and is very successful for it. It builds tension and races to its conclusion in an unputdownable way."
"What can I say about this book other than utterly amazing! I made the mistake of starting this book on a train, I was gutted when I had to get off and wait a couple of hours before I could read more on another train, and I wasn't disappointed, far from it. It sucked me in from page one, The setting was wonderful, the characters really engaging, you could really feel the tension throughout the story. I really didn't want it to end! Anyone who adores psychological thrillers will absolutely devour this book in one sitting."
"Well, what can I say? This book was just everything!!!"
"Deliciously darkly funny."