"Everyone falls. You can't do it without falling."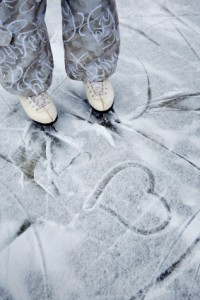 Practical, organised Sara is obsessed with Torvill and Dean's 1984 gold-medal-winning routine so takes evening ice skating lessons to taste the romance of that Bolero performance.
But when Sara is allocated a new skating coach – dashing, wide-boy Rick, 20 years her junior – she must decide if she wants to dance the Bolero for real.
Rick is teaching Sara how to do the elusive 3 Turn.  Sara is teaching Rick how to fall.
A short romantic comedy about the human desire for safety and our simultaneous craving for danger.